Comprehensive care services for you to feel at home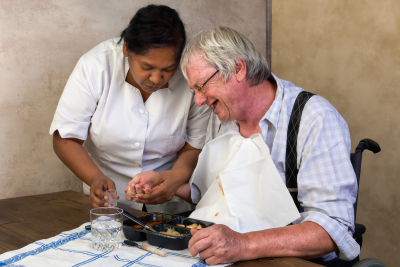 Growing old comes with so many perks. You can enjoy your retirement and spend more time with yourself or your family. You can travel around your town and enjoy the benefits provided by the government. And you don't have to worry much about the intricacies of adulthood, including work. However, aging also comes with challenges, especially health. Many illnesses start to show up as one age. Fortunately, Genesis Senior Living is here to help the elderly live their golden years with the utmost comfort and convenience.
In our assisted living facility, we provide services to our residents, including:
24hour supervision
Assistance in activities of daily living
Health monitoring by a visiting physician
Podiatry care
Physical, occupational, and speech therapy
Regular health assessment
Home-cooked meals and snacks
Medication management
Daily housekeeping
Laundry services
Tube feeding management
Colostomy care
Incontinence care
Respite care
Short term stay
Mobile X-ray
Free medication delivery from our partner pharmacy
Hairdressing
Physical conditioning exercises
Birthday & holiday celebration
Arranged transportation
Our services can also be categorized into three levels of care, namely:
Basic Care
24-hour supervision
Monitoring and ensuring safety
Room and board services
Housekeeping
Meal and snack preparation
Laundry services
Assistance in activities of daily living
Medication administration
Nursing care
Visiting physician/home care nurse
Physical, occupational, and speech therapy
Hospice care
Weight/nutritional monitoring
Assistance in ambulation and the use of assistive devices
Moderate Care
Incontinence care
Catheter care
Requires frequent verbal instructions and reminders for activities of daily living
Special diet preparation with assistance in feeding
Memory Care (Alzheimer's, Dementia)
Maximum Care
Total care with dressing, bathing, grooming, toileting, and feeding
Bowel and bladder incontinence
Wandering prevention
Sundowners syndrome care
Care for the wheelchair-bound
Care for the bed-bound
For more details about our services, please reach us out here.